Creating unique BRAND for Healthcare Clients
HospitalSuccess is the one-stop shop for all things healthcare marketing. With years of experience across nearly every type of organization in this space, we are uniquely qualified to help you grow your brand and deliver on goals, We don't just offer services; rather it's what sets us apart: a team focused solely upon delivering tangible results that only comes from working with people who truly care about growing yours too!
Branding is vital to your organization's success —and that, of course means far more than a name or logo. We can start by defining or refining the tone and messaging for you brand so it speaks with one voice across all channels: digital marketing materials like web sites; social media posts on Facebook (or Twitter), LinkedIn etc.; traditional advertising such as print campaigns in newspapers/magazines). This will help keep everything aligned not just visually but also emotionally which helps create an immersive experience from beginning until end!
We specialize in reaching and influencing doctors who are crucial to your success. Our healthcare marketing services can help you grow sales by efficiently targeting key targets with high-quality campaigns that deliver relevant messages at scale, without breaking the bank.
Marketing service bundle to add more value in Brand building
Website development
Healthcare websites have significant importance in Brand building. It plays vital role with online patient engagement. We design and develop attractive websites.
Search Engine Optimization
Google, Yahoo and Bing are the search engines and places most of the patients look for answers. Healthcare websites needs to be optimized as per SEO norms. We do it professionally.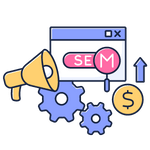 Search Engine Marketing
Effective Search Engine Marketing strategy could give maximum patient conversions for healthcare center. We design and execute SEM as per the client needs and bidgets.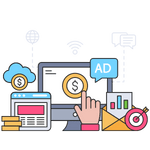 Pay per click
Pay per Click ads may burn money or give excellent ROI based on the PPC strategy and keywords. Our Google ad experts target only related keywords to bring traffic.
Social Media Optimization
Social Media Optimization for healthcare business pages draw more traffic: as Facebook, Instagram, Pinterest & YouTube have more potential users. We optimize & create engaging posts.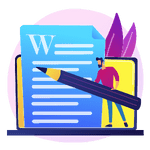 Content Writing
Meaningful engaging healthcare content could gain more traffic on search engines as well as social media. Our content writers are expertise to write Healthcare blogs, white papers, social media posts and etc..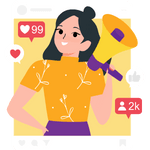 Influencer Marketing
Social Media has created new age celebrities who have great following on Facebook, Instagram and YouTube. We connect, collaborate influencers to promote healthcare brands.
Review Management
Hospital, Doctor ratings and reviews have significant recognition within targeted niche. Gust postings and recommendations make positive impact while choosing medical service. We make, execute strategy on this.
Media relations refers to the way a company communicates with the public and the media about its products and services. Hospital branding includes PR activities because it helps the hospital establish a brand, which is an image of a company that customers think is trustworthy and competent. You need to use media relations to promote your hospital. You can use traditional media, such as newspapers or television, or online platforms such as blogs or social media.
Hospital branding aims to improve the perceived value of a hospital, which in turn increases the number of people who choose to visit that hospital. Hospital branding is also referred to as hospital reputation or hospital differentiation. Media Relations is often the first impression of a hospital, and is essential to building brand loyalty and awareness.
Healthcare PR is strategic communications to build the brand of healthcare organizations and drive more business. Healthcare PR is a new way of communicating effectively. Healthcare PR is a form of communications that builds the brand of healthcare organizations and drives more business.
We at HospitalSuccess makes a PR strategy which could build and enhance positive reputation to any of our healthcare client.   We conduct new Hospital Branding and Hospital Reputation Management. We plan and execute media relations campaigns for products, services and new ventures.