Search Engine Optimisation 
Improves your Healthcare Website's Search Engine Rankings
In this digital era, more and more people are turning to the web for finding the answers to their medical questions. In fact, 58% of internet users now look online for knowledge about specific medical treatments and processes.
A key approach to beat competition and attract prospective patients is to ensure that your hospital or healthcare practise shows prominently in natural search results. However, due to the cutthroat nature of the healthcare profession, this may be difficult to do.
You may improve your ranking in search engine results pages (SERPs) for healthcare-related search terms by implementing a healthcare-specific search engine optimisation (SEO) strategy. As more and more people use search engines to find medical information and references, hospital SEO has become a must-have in today's digital world.
To learn more about the SEO services given by Hospital Success, please call +91 99120 11299 and chat with one of our strategists, or continue reading to learn about the importance of SEO and how it may help your hospital or healthcare organisation.
If you ask, "What is Medical SEO?"
The term "search engine optimisation," or "SEO," describes the steps you take to raise your site's visibility in search engine rankings. To increase traffic to your site and attract the ideal demographic, you need to implement a comprehensive SEO strategy, especially for Healthcare provider's niche and needs, an effective search engine optimisation strategy for hospitals, doctors and Healthcare Startups.
Search engine optimisation also maintains your healthcare site up to date with how search engines provide data to consumers. Without search engine optimisation, your site's exposure might change greatly, reducing your ability to reach new patients as your rivals rise in the rankings.
This emphasises the need of a continuous SEO effort for hospitals and healthcare organisations to keep up with the ever-changing algorithms of search engines.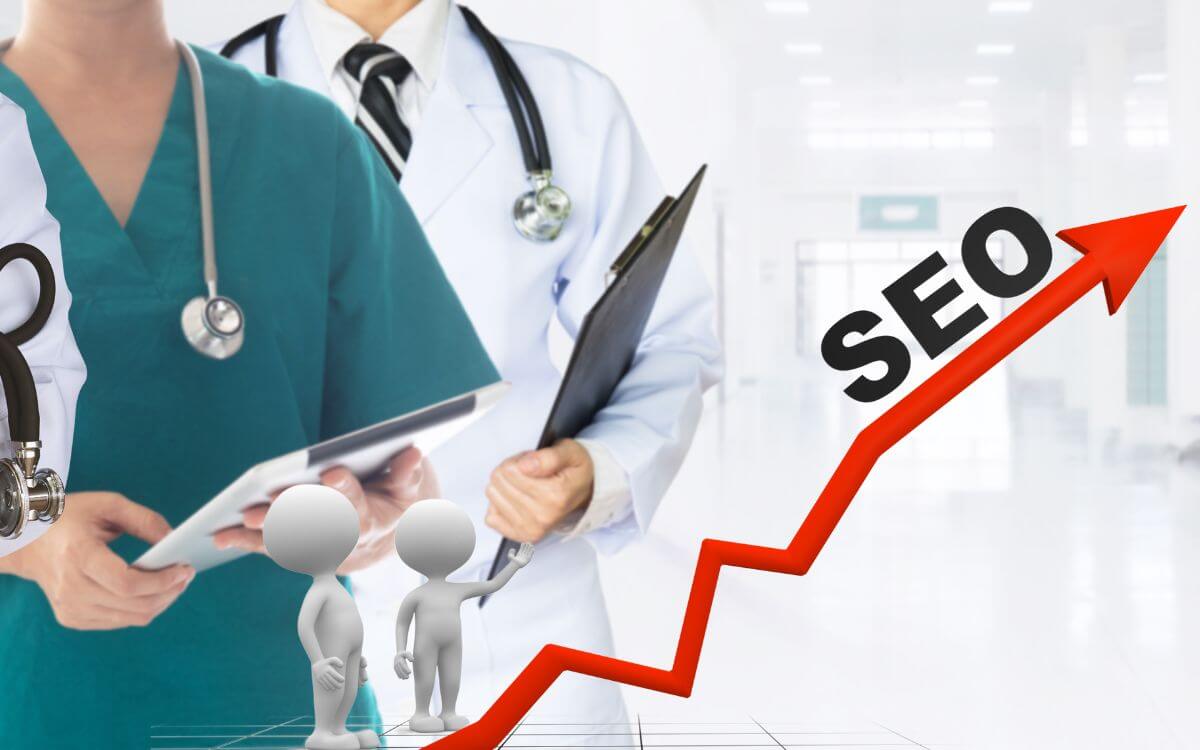 The Value of  Search Engine Optimisation for Hospitals, Doctors & Health centers
Whether your objective is to increase the number of patients who visit your hospital or the number of procedures performed, an SEO campaign for healthcare is the most effective and cost-efficient way to reach potential patients and establish your business's authority in the medical industry. It may also increase the ROI of your business.
Seventy-seven percent of people use search engine results as their primary source of information before choosing a doctor or scheduling an appointment. Whether you're a major medical centre or a small, independent practise, you need to take advantage of these searches by getting your website seen by as many people as possible. With search engine optimisation, you may boost your website's visibility in search engine results pages (SERPs) for very precise keywords and phrases, such as "Best Mother and Child Hospital in New Delhi."
Most of the time, the most searched medical terms on google are about treatments that are high risk or expensive. People who are considering vision correction surgery are more likely to look for "laser eye surgery" than for alternatives to surgery. You may take advantage of these possibilities with a robust healthcare SEO effort.
SEO and the Importance of Medical & Wellness Content
You may gain credibility as an industry leader in healthcare by publishing original information on your website. This may be accomplished by disseminating blog entries, videos, patient testimonies, interviews, and news about medical advancements or sector shifts.
Traditional patient research prior to hospital or clinic visits has focused on symptoms and medical issues. As a result, it is essential to provide substantial explanatory material on your website to boost user conversions. You should expect to see your site appear higher in relevant search results after adding this material, since search engines like Google will have a better grasp of the context in which your content is placed.
Search Engine Optimisation for increasin patient footfall
Getting more leads is a frequent SEO objective for healthcare providers. Start by creating a content strategy that revolves on keywords that have a history of bringing in conversions. Make sure your headers, URLs, and title tags are all keyword-rich. Use meta descriptions that do justice to the information on your site and encourage others to check it out.
Your site's position in search engine results pages (SERPs) will rise as more people read your articles and blog posts and link to them. As a consequence, you may see an increase in potential clients and patient traffic at your medical practise.
Why It's Crucial to Have a Mobile-Friendly Site
In the healthcare profession, where people frequently need quick answers regarding their health while on the road, having a mobile-friendly website is essential. Since 44% of patients use their mobile devices to research hospitals before making an appointment, having a website that is optimised for mobile usage is crucial. As mobile-friendliness is now a ranking criterion for Google, it's crucial to think about how the design of your website will effect its exposure.
Local Search Engine Optimisation (Local SEO) for Hospitals & Doctors
Your healthcare facility's online visibility may be considerably improved by include local search variables in your SEO strategy. Search engine optimisation (SEO) for local results speeds up the discovery process for local patients. Setting up or improving your Google Places page is an integral aspect of any local SEO strategy. Doing so will raise the profile of your local listing in geotargeted searches. If a prospective patient in Dallas does a search for Dallas hospitals, for instance, your listing will appear higher in the results.
Advice: Keep an Eye on Doctor and Service Listings
There is sometimes a paucity of information about individual physicians on the websites of healthcare providers. Try imagining yourself as a prospective patient and asking yourself what type of details would prompt you to make an appointment. All of your doctors' bios, including bios, specialisations, office locations, and photos, should be easily accessible on your website. You may go the additional mile by including biographical details and references to their published works.
You may also want to consider making specific web sites for each of the healthcare services your institution provides. This method not only improves your hospital's visibility in service-related search results but also highlights its unique selling points. Make sure that crucial information like insurance plans accepted, parking information, and contact details are all easily accessible on your website. Patients will be more likely to seek out to you if you provide this information to them.
How Can Hospital Success Improve Your Hospital's Search Engine Optimisation?
We at "Hospital Success" know how difficult it can be to handle SEO efforts in-house, as well as how time-sensitive the healthcare business may be. We can help with Content generation, outreach, and local optimisation are just some of the SEO tasks that we can take care for your hospital. You may stop worrying about SEO and concentrate on what really matters: your patients.
Our seasoned web marketers are committed to your company's online success. To ensure that our approach is in line with your Healthcare business objectives, we do in-depth research on your niche, rankings, and target audience. Your hospital or healthcare organization's website will see an increase in visitors thanks to our internet marketing services. In addition, we will assist you in establishing yourself as a leader in your geaography. Don't hesitate to contact us today.   
Fix Expert Appointment
Take a step towards SUCCESS by filling the Form